Hi, Mrs Jones here, your loving aficionado of all things business, techy and freelance. Looking for freelance work, you say? And as usual, I got you covered!
Today I would like to pour more of what I have learned over the years into your new (half?) empty freelance cup.
Now, without further ado…
Disclaimer: This post may contain affiliate links that are at no additional cost to you, I may earn a small commission. I only recommend products I would use myself and all opinions expressed here are my own.
Where Can I Find Freelance Clients Online?
Finding the right clients for your new freelance business can be a tedious topic and one of the biggest obstacles. I get it.
Clients? What are those? *giggles* ? Just messing with you my fellow freelancers. But chances are you are doing this for the very first time.
The process of looking for freelance work could be a significant learning curve. However, once you know
where to look,
what to expect and
what to offer it will certainly be a lot easier.
Having Patience And Determination
Like everything else in life, whether we like it or not, it will require patience and determination. You just need to get the hang of it.
Foremost, among the very best places to find clients (especially when you are just beginning) are through particular websites that are committed to assisting freelancers and customers to connect. A marketplace if you will.
On these platforms, the clients upload detailed job listings and then freelancers compete to offer the most effective proposition. The client will then pick who they wish to collaborate with.
It's pretty straightforward and uncomplicated. Due to the simplicity of the process on these platforms, many freelancers choose to continue working with them, regardless of acquiring a reasonable amount of experience.
The formula for being successful on these competitive sites is to showcase a unique package and a portfolio that shows your work and what you can do to benefit these clients, and likewise playing to your strengths so you can attract attention; just make sure you are charging a reasonable cost.
Such platforms are diverse and open to all types of freelancers. They cater to jobs of all kinds reaching an extensive and varied field.
There are, likewise, other niche-specific platforms that concentrate on particular markets. So, do your homework and study them to identify which one will certainly be suitable for you and your business.
Below I have listed some of the most popular platforms for you to get you started.
You're welcome ?
Fiverr
Fiverr is great, especially for those just getting started.
Fiverr has projects available for different genres of experts, including authors, graphic designers and more. Much less, they have become very popular as their charges are low and appeals to most freelancers.
Indeed, anyone can market themselves with this system as it is very user friendly and delivers a smooth-sailing experience for both clients and freelancers.
You can rest assured, my friend, all your personal details are shielded as they never share seller info with any other person.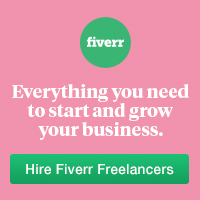 Upwork
Upwork is one of the only freelance websites where you can discover specialized as well as accredited people such as designers, attorneys as well as economic experts.
Upwork offers freelance work per hour rate and gives a job success ranking. Any freelancer can register for free, but they also take a whopping 20% out of what you have earned.
People Per Hour
The name says it all. If you are looking to get paid by the hour then that's precisely what they do.
People Per Hour allows companies to search for freelancers based on their area of expertise. If someone wants to hire you they will need to put down a deposit to secure your services. Neat, huh.
As a freelancer, you can submit up to 15 proposals per month before they start to charge for their services. This is a plus if you are just starting and want to build up initial clients and experience.
In addition, If you are looking for freelance work, you may as well submit a couple of proposals and see what comes your way.
Besides these, there are other websites and platforms that offer more or less the same type of services for freelancers. Some specialise in a particular niche and others are open to any type of freelance work.
How To Get Clients As A Freelance Web Developer
Let me tell you what I do. Observe and learn, my friend.
As a web developer, one of the foolproof ways I find clients when things are slow is to show what I can do for them as opposed to just telling them what I can do for them.
What does that mean? Build them a website, of course. Yep, you heard right that's exactly what I said.
In short, I target my audience and do the research to find outdated websites that need some TLC and fine-tuning. .
In fact, I would not build the entire website just the homepage to give them the taste of change.
After, I do a short recording of the old website, pointing out their problems, issues, the whole shebang followed by a recording of the newly updated page which displays all the improvements on how the new page will convert and generate leads.
BAM! Bob's your Uncle. Sold….and that's how it's done, my friend.
I now pronounce you to be the smart, go-getting freelancer for many years to come. Tap tap (that's the sword tapping your shoulders)
Trust me when I say that 9 out of 10 times the client walks away happy with what you have done. Sometimes you have to give to get back.
This approach shows your skills and it's always a win. If you don't make a sale right there and then, please don't worry they will either come back to you when they are ready or refer you to others. You will also have a new piece of work to add to your portfolio and maybe a testimonial *wink wink* ?
So, whether you are a freelancer in graphic design, a freelance writer, whatever your industry or niche. Think about what you can do for a potential client and actually show them. Wait for no one.
How To Get Work As A Freelance Writer
"Writing is easy. All you have to do is cross the wrong words" – Mark Twain. That's just pure genius. You're da bomb, Mark.
I enjoy bloggin' and it is a great way to earn money as a freelance writer while you are looking for freelance work. Blog sites are an ever-growing form of digital marketing.
Online writers are in demand these days, they are needed to write website content. Publication websites will hire writers to maintain sites and create content for them.
Think of publishing some of your posts on Medium, too. This is a social media platform dedicated to writers and bloggers. Some people make money from it – others are just in it for exposure or their pleasure.
If you are looking for freelance work as a writer you could try on sites, such as FreelanceWriting.com. Every story is unique and worth being shared with your audience.
Try Wealthy Affliates
As a freelancer, you may want to consider generating an income by having your very own blog and posting on it regularly. If you find you love to write, you can start several blog sites simultaneously to increase and multiply your earnings.
Wealthy Affiliate makes it possible to earn while blogging. In fact, Wealthy Affiliate offers a complete program and community support to help you make money online. Why not give it a try. They offer a 7 day free beginners package. When you get inside you will have access to:-
Training
Certification Core Training – Level 1
Bootcamp Core Training – Level 1
Websites
Website Builder
1 Free Website
Hosting Security Suite
Free SSL
Research
Jaaxy Starter (free)
30 Keyword Searches
Affiliate Program Search
Support
7 Days 24/7 Live Help
7 Days Questions & Answers
7 Days Personal Blog
Personal Blog & Profile
You also get 24 hours Community Support from thousands of business entrepreneurs and freelancers with all kinds of expertise. I joined Wealthy Affiliate on their free starter package back in 2017 and never left.
How Do I Find My First Freelance Client?
A lesson of the many lessons in life
A question that we hear often.
How do you actually find your first client?
What's the secret?
Here's a true story I once heard. It shows how this method can work for others with less techy jobs.
This entrepreneur was a young boy at the time and had the idea to start a grass cutting service. He knocked on many doors and tried his best to get his first client to use his service but nothing came out of it.
One day he went on his usual quest to find "a client". He then saw a house where the grass was so overgrown and in a very bad state. He knocked on the door with no answer; he decided to wait. After a while, he thought, "let me cut the grass while I am here anyway". The young boy got to work and cut the lawn until it looked pristine.
He then sat on the doorstep and waited. Not long after the lady of the house finally arrived and pulled up to her house. Try to imagine how she must have felt. She was overjoyed! ??‍♀️
The lady thanked him and explained how her husband was away and she did not have the time. He was paid more than he expected and the lady referred him on to other friends. True story.
Do you get what I am saying here? His showing value along with good service made someone's day. What you put out comes back to you. Clients will forever be visual beings. The more they see of what you can offer, the merrier.
Start Close To Home
Business is where the freelancer's heart is. Home.
When looking for work as a freelancer, make sure you tell all your friends and family (even the ones you got beef with), about your business and what you are doing.
There is a lot of power in this. Word of mouth is on top of my list for exposure.
This is how I personally started. A friend of a friend of a friend will soon start to refer their friends to your services – it's like a snowball effect. It starts to grow and grow – believe me.
People like to work with those they trust.
Building Trust With Clients
Trust plays an immense role in finding clients.
Clients have trust issues – just put yourself in their shoes. The unknown is intimidating no matter how strong you are emotionally.
I have dealt with many clients, and by far fearing the unknown was the biggest factor in a potential client signing up for a project. You need to work your way up to their safe haven.
A potential client can see you are skilled at what you do, they might have the money and more, they want the job done. BUT, they don't know you.
What if I don't get on with them?
What if they don't deliver?
What if..? what if..? And what if..?!
So it's your job to make sure you show any potential clients that you can be trusted. Having testimonials, reviews or references will contribute to building trust.
It's called a "business relationship" for a reason. It's a relationship that is based on many factors but trust remains one of the main elements for it to work out. No trust, no relationship.
Testimonials
"Test My Monials – A Guide to Testimonials
Testimonials play a big part in finding freelance clients, right?
The power of testimonials is just as strong as the power of love. Not really, I just thought it sounded good lol. ?
You can start by offering to do work in exchange for testimonials – now this helps. First-hand experience.
If you can get video testimonials, this would be a great addition to your portfolio. Seeing an actual person adds so much credibility. Remember, clients, are visual and like to see proof.
Try your best to get people to leave a review on your Google business account. Don't underestimate the power of Google.
An interesting experience and very much appreciated. I liked how Jamila took the time to record on video and show me what she talking about in her feedback. I received 5 useful and practical tips through the eyes of not only a visitor but through the lens of a specialist.
Nazneen Choudhury
24/04/2022
Jamila provided an audit for. This was very useful. I now know where some of my weak spots are, where I need to create more clairty, interest, increase SEO, and she even gave me a tip on creating a lead magnet. I know that I'll come back to Jamila for more help. I highly recommend Jamila's service!
Aafiah bint Kay
19/04/2022
Really insightful!!! And well explained !!!
Simple and effective audit, which really helped. The five points are clear and actionable. Thank you
The mini review undertaken by Jamila was very clear and provided positive direction to improve our website. We will seek to implement all five suggestions to improve our visability.
I've been working with the virtual click for over a year. I love that the process wasn't rushed at all. Jamila was very patient with me and paid attention to every detail of my website. I'm so grateful for the tutorials I received after the completion of the process. Since I'm not very familiar with website development they were very useful.
Jamila has been very professional, creative and quite helpful right from the on set with making our website exactly how we envisioned it, from basic details of design and color schemes to making our website simple to understand and easy to use. Really loved working with her and her customer service is top notch ! Looking forward to working with you again. Would highly recommend.
Phenomenal Web design with great eye for detail buisness and design wise.
priscilla vadivelloo
31/08/2021
I liked the fact that Virtual Click was always able to provide me with added videos, links and information on how to get the information I required to achieve the best results. My journey with Virtual Click has been one why I did not feel alone at any stage of the process, they were always at hand ready to assist.
Volunteer Your Services
In the past, I have volunteered my website services for charity organizations. This was another opportunity for me to gain clients. For you too, my friend. Working with charities is triple rewarding;
a) You're helping a charity. That's always good.
b) The community is getting to know your professional side.
c) You are building a profile and your client list.
Offering to do work within your community and helping those in need will do all that and more. Working with a charity was my best time ever when starting my freelance career.
Social Media Platforms
I kindly request you to ditch the selfies with your favourite my little pony character on your business accounts.
What you need is a good professional presence on your social media platforms that shows your professionalism and skills. When looking for work as a freelancer, make sure you have fully optimized your profile. That way, any potential clients will have the ability to locate and contact your services.
I would suggest putting your profile across numerous social media platforms. But, only focus on one or two while you are building up your business, as it can be very time-consuming. Having a presence on social media will help your clients find you. Don't have your clients go in circles, or squares, to find you on the web. Not helpful.
Do You Know Your Target Audience?
Sooooo, tell me what you want – what you really really want….
What's going to help you way better is if you know the potential clients you are looking for.
Make sure you research your industry and clientele. Identify precisely just how your potential clients make use of the web.
Do they hang out on FaceBook or
Do they prefer Instagram and Pinterest?
Maybe they are into watching tutorials and YouTube
Some of your clients, depending on your business may enjoy detailed discussion boards and forums, if that's the case, develop an account and also get connected.
There are platforms like Reddit where clients and freelancers like to connect and have discussions.
It's also noteworthy to mention that finding where your Ideal clients are hanging out, may not happen overnight so may require some good digging but all worth it.
How Do You Decide What Content To Create?
Content that gets your clients content
Create content for your target audience that will help them to solve their problems; because who doesn't like all their problems solved on a whim?
Put it out there on a blog, vlog whatever you think is best. You can also answer questions on platforms such as Quora, show yourself as the go-to person and expert.
Help people and show them you are skilled in what you do. Go that extra mile so they can see your value. Make sure your profile on Quora has all your information, too.
Having A Good Portfolio As A Freelancer
Having a summary of your services and your portfolio being easily accessible is a professional and simple way for your future clients to be able to find and contact you.
Check out my blog post on the Top Secrets To Building A Freelancer Portfolio, where I dive in deep into the details offering tips, chocolate cake, how to maintain a portfolio, the different types of portfolios and more. Lovely post, I'm telling you.
How To Pitch Your Services
Get creative when pitching your services and try different methods such as:-
Telling a story
Explain the benefits your services will bring
Find a solution for any pain points
What will you promise or guarantee
The technique is simple and something worth trying for any service or product.
Another idea is if you're looking for freelance work and clients, especially if they are not coming your way; you need to go to them.
Create special and exciting offers and deals (which we call pitches in the business) for your clients and share exactly how your services will be beneficial to them. This can be through email or calling the client on the phone.
Put A Strategy In Place To Get More Clients
Put a block of time in your calendar or diary each day to find clients.
Whether that be by cold calling, sending out emails with your compelling pitches that you have written. Humour is almost everyone's favourite. No need to overdo a friendly email when a few witty and humorous lines can go a long way.
Also, have a set number of calls or emails that you will make or send out during the block of time you have allocated.
For calls, you could create a nice script that you can stick to while you are talking to your potential client. This script will serve as your guide when calling the client, so make sure you practise first so you don't sound too robotic.
Freelance Support Groups
Networking is so important. It has always been important. If you are not into networking, you are seriously missing out.
You can ask other freelancers whether they are in any support groups. This way you can network and exchange services and jobs. This is one way to start networking.
For example, I build websites and may refer a client of mine to another freelancer who is looking for someone to manage their social media account, and so on.
Networking is a fantastic way to keep your business alive and breathing.
Conclusion
It's a fact, life as a freelancer will have its quiet moments (cricket, cricket…cricket). ?
Maybe they simply do not need you at this very moment or possibly your designs does not interest them. And that's ok and all part of the process of getting to your first or even 4th client. Just hang in there.
Whatever your skill may be, there are a lot of various other things you can do when looking for freelance work. Snoozing ain't one of them.
If you aren't getting adequate work, simply use the time you have to invest in your skills, and exercise your abilities. There are tons of free online courses you can invest your time in. Read opinions and experiences on discussion boards.
You can pretend you have a job and do a project, writing posts, or making illustrations, make an instruction manual or video to help others and showcase your talents.
Do whatever you hope to provide for a client instead of waiting for them to knock on your door. Get grass cutting, don't wait!
Go, my friend, you now have tons of information. I would certainly love to know if you found this article helpful! Please let me know by leaving your comments below.